Our Profile
Exflõr – Exterior Flooring Solutions is your one stop provider for a wide range of exterior flooring products. With Exflõr's commitment of assured supply, guaranteed load bearing capacity, a wide range of colours, shapes, textures & thickness of products, your landscaping job has now become even more simpler.
Pioneer in Exterior Flooring since 2004
Exflõr has made a significant mark in the field of exterior flooring since a Columbia Vibro-Press was set up way back in 2004. This made us the largest manufacturer of exterior flooring in the state of Goa. Our capacity was augmented with our second plant with Italian Tile Press technology which was commissioned in 2012. We have maintained our position as the no 1 exterior flooring manufacturer for over a decade and counting!
Now with two manufacturing plants up and running to full capacities and numerous product and marketing innovations in the pipeline, Exflõr is proud to present its high quality range of exterior flooring products that will undoubtedly meet your expectations.
Exflõr is the largest manufacturer offering the widest range of paver blocks and paving tiles in Goa.
Approved by government agencies like PWD, GSIDC, GSUDA, MPT, Airport Authority of India and also by Petroleum companies, Exflõr is the first choice of all major contractors and builders of Goa.
An ISO 9001 : 2006 Company. Now also with ISI Mark.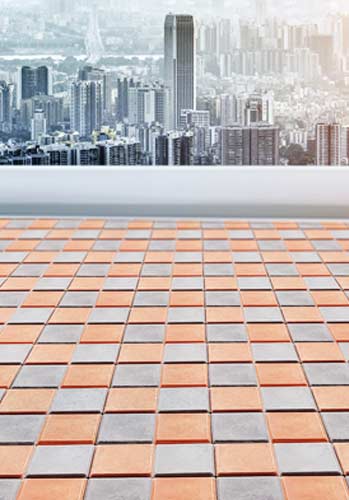 Our Mission

We strive to provide innovative products of superlative quality at an affordable construction costs. Our dependability stems from our timely deliveries.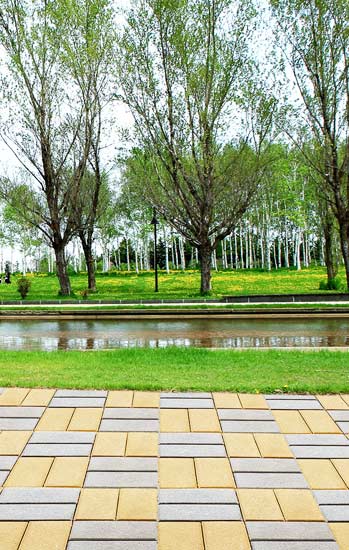 Facility
Exflõr interlocking pavers & paving tiles are manufactured from two plants – one in Ponda & another in Valpoi, Goa. The total manufacturing capacity is 20000 sqmt or 2,00,000sqft per month.
The fully automatic American Vibro-Press machinery at Ponda is the largest facility of its kind in Goa with steam curing facility, for uniform watering and curing of pavers. The production process is controlled through Cimplicity HMI software, licensed from GE Fanuc (of USA). This automatic process ensures highest quality and strength. Pavers of thickness from 60mm to 100mm can be manufactured.
All this is done to ensure that our customers get only the best quality pavement blocks & precast concrete products at cheapest rates possible.
In 2016 we have ventured into the allied products of building blocks. A brand new facility was set up to manufacture three kinds of building blocks for construction namely: Solid concrete blocks, Hollow concrete blocks and light weight AAC (aerated autoclave concrete) blocks.
For team Exflor the customer always comes first & is the centre of our business. In order to give a complete solution for exterior flooring we have also ventured in the field of supply of natural stone products for exterior flooring. Cobbles & natural exterior stone products are customized as per the customers requirement & sourced from quarries from all over the country to provide a complete solution to our customers exterior flooring needs.
We have also partnered with vitrified exterior flooring tiles manufacturers from Morbi, Gujarat for exclusive branding and marketing of vitrified exterior products in the state of Goa.